Homemade Lunchbox Ideas
Emily Kerrigan from Modern Family Food brings us five easy ideas for kids' lunchboxes - perfect for school, picnics or when you're out and about over the holidays. Adults will love all these recipes, too.
Photo © Emily Kerrigan/Modern Family Food
Sausage rolls
Makes about 8 Takes 35 minutes
Friendly warning: once you've made your own sausage rolls, it's hard to go back to the bland, mass-produced, packaged kind. Thankfully, this recipe uses easy shop-bought puff pastry and sausagemeat so we're not condemning you to a life slaving away making your own pastry. You won't believe how much better these taste, even with the odd cheat. They're freezer-friendly, too and cook from frozen (see below). Make sure little ones know not to eat the raw meat if they're helping to cook these and to wash their hands after touching it.
1 egg
250g readymade puff pastry
500g good quality sausagemeat
1. Preheat the oven to 220°C/425°F/Gas mark 7. Line a baking tray with parchment paper.
2. Help your kids to crack an egg into a bowl and whisk it up with a fork.
3. Roll out the puff pastry until it's about 5mm thick and in a rectangle shape.
4. Take the sausagemeat and mould it into one long sausage along one side of your rectangle. Roll it up and pinch the edges with your finger tips to seal.
5. Brush the top with the beaten egg using a pastry brush then cut to whatever width you fancy.
6. Cut a little slash in the top of each then bake for about 30 minutes until golden then cool on a rack. These cook from frozen in 20 minutes at 220°C/425°F/Gas mark 7 in a preheated oven (allow them to cool completely after cooking then freeze, labelled with the date, and get out of the freezer in the quantities you need. Use within a month).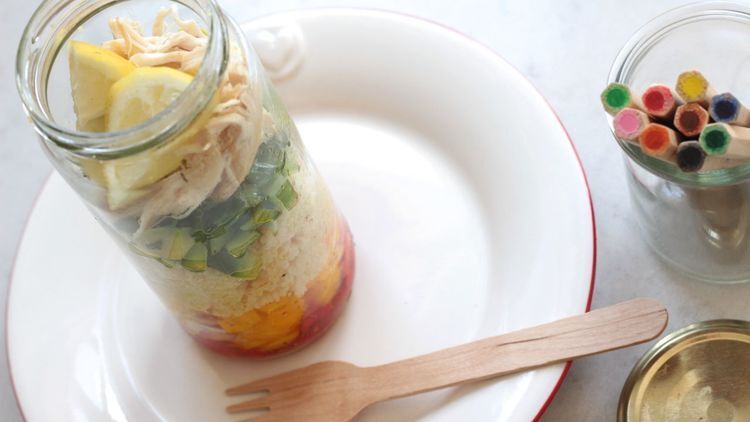 Photo © Emily Kerrigan/Modern Family Food
Rainbow in a jar
Makes 2 big jars Takes 10 minutes
Full of goodness, this colourful little salad is practical and easy to pack into a lunchbox. Kids like stacking up layers and can help make the couscous - leave dicing up the veg until they're old enough to handle a sharp knife.
4 tbsp couscous
½ red pepper
½ yellow peppe
r½ green pepper
1 avocado
1 lemon cut into wedges
1 tbsp extra-virgin olive oil
white wine vinegar
salt and pepper
a few flat-leaf parsley or coriander leaves, or a mix of both
½ pack of ricotta or drained feta or a few handfuls of leftover shredded roast chicken
1. Boil the kettle. Get the kids to measure the couscous into a little bowl, pour over the boiling water just to cover and set aside. Finely dice all the peppers, peel, core and cube the avocado.
2. Take a tall tumbler (or a jam jar with a lid if you want it to be portable) and help the kids assemble the salad. Start with the dressing (so that when you turn the jar upside down onto a plate, the dressing drizzles through the ingredients and winds up at the top). Pour the extra-virgin olive oil into the bottom of the jar, use the cap on your white wine vinegar bottle to measure out a capful and pop in too. Squeeze over the juice from one wedge of lemon and reserve the rest for later. Season with salt and pepper.
3. Now layer up your chopped-up ingredients. Start with half the red pepper followed by half the yellow pepper. Fluff the couscous up with a fork (all the water will have been absorbed by now) and spoon half into your jar. Add half the avocado, herbs and green pepper.
4. Top with half the cheese or chicken (whichever you are using) and pop another lemon wedge in the jar or tumbler at the top.
5. Now repeat with a second tumbler or jar using all the remaining ingredients.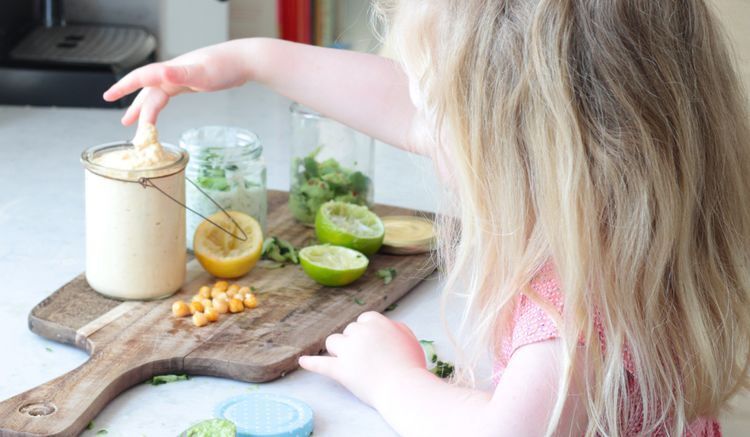 Photo © Emily Kerrigan/Modern Family Food
Minute-make lucky dips
Each makes 1-2 jars Takes 5 minutes
Homemade versions of humous, guacamole and tzatziki are a cinch to make and taste far fresher than anything you'll get at the supermarket. However most kids that we know initially turn their nose up at homemade humous in favour of the stuff you buy in the shops. The secret to mimicking this is to thin your version down with water - which should tell you everything you need to know about the quality of shop-bought humous. If you want them to eat yours instead, make it look the same (with the added water trick) but taste far nicer.
Humous
1. Drain and rinse a 400g tin of chickpeas then throw in a food processor with ½ clove of garlic (no need to grate), 1 tbsp tahini, 2 tbsp extra virgin olive oil, a squeeze of lemon juice, salt and pepper.
2. Whizz it up and then add water, splash by splash to loosen it a little and make it look a similar tone to shop-bought. Your version has more taste and no additives. Keeps in the fridge for 2-3 days. You can also substitute the chickpeas for cannellini or butter beans.
Entry-level guacamole
This simple version tones down the chilli/raw onion/tomato element that some little kids find off-putting.
1. Bash up one or two ripe avocados in a pestle and mortar or pulse in a food processor (it's nice to keep some chunks of avocado so don't make it completely smooth).
2. Squeeze in the juice of a lime, snip in some coriander with kitchen scissors, mix and decant to a jam jar. Sprinkle with a few chilli flakes and scatter over a little extra coriander. Eat the same day.
Box-grater tzatziki
This version is a quick cheat which doesn't involve de-seeding, salting or squeezing the cucumber to get the excess water out. You're not making very much so we think you can get away without but feel free to do this first if you like.
Get the kids a box grater and a bowl. Grate ½ cucumber into the bowl (which saves on the kitchen clean-up whilst also sparing their knuckles). Grate in ¼ clove of garlic (you don't want to blow your toddler's head off) then take off the lid and squeeze ½ a lemon directly into the bowl. Season with salt and pepper and stir in 4 tbsp Greek yoghurt. Drizzle with a little extra-virgin olive oil and eat the same day.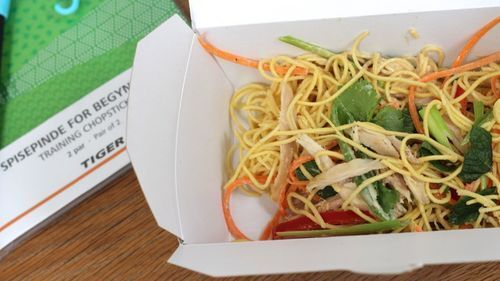 Photo © Emily Kerrigan/Modern Family Food
Tuk Tuk noodle salad
Serves 4 Takes 15 minutes
Little kids like eating noodles because they're a bit interactive – a good excuse for slurping up noodles, finger-picking at bits of veg and having a go with trainer chopsticks. This salad uses ingredients you might have knocking about without having to do a food shop: a nest of noodles, a stray carrot or pepper, a few mange tout. You can add a little leftover roast chicken if you have some or leave it out for a vegetarian version.
The dressed noodles will sit quite happily for a day in the fridge so you can make it ahead of time, save some for a packed lunch, or feed just the kids some at 5 o'clock and then tu(c)k into the rest later with a cold beer. In this instance, dress a grown-up plate up with sliced red chillies, if you like. And if you don't want chilli in the kids' portions at all, just leave it out of the dressing altogether and add sliced red chillies to your plates at the end.
2 nests of egg noodles
½ deseeded red chilli, plus extra, to serve (all optional)
3 tbsp peanut butter
a splash of soy sauce
a thumb-sized piece of fresh ginger
2 limes
2 spring onions
1 large carrot
1 red pepper
a handful of mange tout or sugar snap peas
leftover shredded roast chicken (optional)
a handful of coriander and mint, leaves picked
1. Boil the kettle. Pop the noodles in a large mixing bowl and cover, just, with the boiling water. Leave for 5 minutes to soften then drain in a colander and run under the cold tap. Set aside in the bowl for a moment.
2. Get the kids to help you whizz up the dressing in a food processor: pop in the chilli (if using), peanut butter and soy sauce. Peel and grate in the ginger and squeeze in the juice of one of your limes. Blitz - add a little water, splash by splash, to loosen to a dressing. You may need to stop the processor and scrape the dressing down from the sides with a spatula then whizz again until it's all well combined.
3. Show the kids how to top and tail the spring onions with a pair of kitchen scissors. Cut each length into thirds with a small knife then thinly shred (adults only). Put the shredded onions in a little bowl, cut the second lime in half and squeeze over them (this takes the heat out of the onion).
4. Top and tail the carrot and peel with a veggie peeler. Older kids can have a go at shredding with a hand-held julienne shredder like this one (beware it's sharp so pay attention and make sure their fingers aren't anywhere near the blades). Failing that, grate by hand or shred in a food processor. You can slice the red pepper in there too or do it by hand with a knife. Shred the mange tout or sugar snap peas on the horizontal, you can blanch them briefly in hot water if you like (3 minutes) but we like them thinly shredded, coated in dressing and raw for a bit of crunch.
5. Now get the kids to help you put the salad together. Add the spring onions (and lime juice) to the noodles in the bowl, along with the carrot, pepper and mange tout. Throw in the shredded chicken (if using). Pour in the dressing and show the kids how to use tongs to mix it up. Rip up the coriander and mint, sprinkle over the noodles then mix again. Adults can sprinkle over a little sliced red chilli.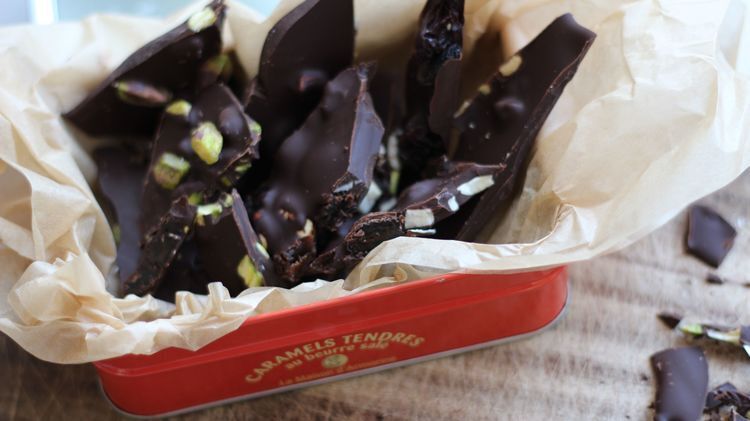 Photo © Emily Kerrigan/Modern Family Food
Easy chocolate bark
Makes 1 batch Takes 10 minutes plus setting
This bark helps wean your kids off cheap, sugary chocolate bars and onto darker chocolate with less sugar. Little ones like making it because they get to do a lot of bashing and breaking up - and there's chocolate at the end of it. You can vary it and put whatever nuts or dried fruit you fancy in it (see below). For a grown-up version, add a little chopped up crystallised stem ginger. Perfect for the school run or great for you on the side of a coffee. Look for chocolate with 75% or more cocoa solids and no added sugar.
And don't worry too much about quantities - chocolate drops tend to come in 150g packs and bars tend to be 100g, use either/or, no biggie, and add as much fruit and nut as you want. You can also use good quality milk chocolate if you prefer.
a bar of 75% dark chocolate or a pack of dark chocolate drops (substitute for milk chocolate if preferred)
your choice of: cashews, pistachios, pecans, walnuts, hazelnuts, peanuts, raisins, dried apricots, dried cherries or crystallised stem ginger
1. Line a rimmed baking sheet with greaseproof paper and boil the kettle. Break up your bar of chocolate. The easiest way for kids (and grown-ups) to do this is to smash it about a bit on a chopping board and between your fingers while it's still in the foil wrapper. Decant into a plastic jug. If you have a pack of chocolate drops you can just put them straight in the jug.
2. Pour the boiling water into a large pan that your jug will fit nicely inside and set over a low heat until the chocolate melts (a few minutes).
3. Meanwhile choose a few handfuls of whatever nuts you want, put them between two clean tea towels and get your kids to bash them about a bit with a rolling pin (or pulse once or twice in a food processor). Get a handful of dried fruit - if you're using apricots or dried cherries you'll need to snip them up with kitchen scissors.
4. Once the chocolate is melted take it off the heat and stir in your fruit and nuts.
5. Pour onto the prepped tray and pop in the fridge to set. It doesn't matter whether or not it fills the tray as long as it's relatively even. Finally, chop it up into chunks and wedges with a sharp knife (adults only) and store in a tin in the fridge or somewhere cool.
Fancy trying any of these recipes? We'd love to get your feedback or see your photos! Post them to our Twitter or Facebook pages, or leave a comment below.
Check out last week's recipes for speedy standby meals, including sweetcorn fritters and homemade pesto. NEXT WEEK Emily will be bringing us five delicious picnic food recipes.
Find more of Emily's quick, easy recipes at Modern Family Food and follow her on Twitter, Facebook and Instagram. All recipes and photos © Emily Kerrigan/Modern Family Food