Homemade Kids' Favourite Meals
Check out these delicious, foolproof recipes by food writer and mum-of-two Emily Kerrigan from Modern Family Food. Each recipe is triple-tested and simple enough that any parent can follow it, no matter how sleep-deprived or time-poor. Why not give these easy versions of kids' favourite foods a try?
"None of the kids' cookbooks on my bookshelf felt current. Many hid vegetables in sauces (shouldn't kids learn what an aubergine looks like?) or turned pizzas into emoticons. The rest contained recipes for children to cook on their own, mainly cupcakes - fine for a bit of baking, but nothing that taught them how to make an actual balanced meal. I started Modern Family Food so that we could all cook together, the way I did with my mum. Back then, there were no separate children's menus. Little kids ate grown-up food, just on smaller plates. I needed my own modern recipes that fitted in with our busy young family, got us out of a rut and that the kids could help prepare." Emily Kerrigan
Photo © Emily Kerrigan/Modern Family Food
Carrot and chicken nuggets
Makes 10-12 Takes 20 minutes
Use up leftover roast chicken to make these quick, kid-friendly nuggets which are coated in polenta, not batter, for crunch then browned in just a smidge of oil to keep the fat content down. We've added carrot and mozzarella for a nugget loaded with valuable nutrition with no added nasties. Easily scaled up to feed a crowd.
150g cooked roast chicken
1 small carrot
1 tsp dried oregano
1 egg
salt and pepper
1 ball mozzarella
polenta for coating
rapeseed oil
1. Get the kids to help you assemble all the ingredients in a food processor: weigh out the chicken, peel the carrot and chop it into 4 or 5 pieces, then add too. Pop in the oregano, crack in the egg and season with plenty of salt and pepper. Whizz to combine. Ensure the carrot is finely chopped.
2. Chop the mozzarella into pieces – get them as small as you can. Remove the blade from the processor, decant the nugget mix into a bowl and get the kids to mix in the mozzarella.
3. Get a wide shallow bowl and sprinkle generously with a few tablespoons of polenta. Season with salt and pepper and stir.
4. Wet your hands and roll the mix into 10-12 golf ball sized nuggets. Pop each into the polenta and get the kids to shake the bowl to lightly coat the nuggets. Roll them around to ensure even coverage but don't go too wild – you want a light coating, not too much.
5. Drizzle a little rapeseed oil into a frying pan, heat over a medium heat then add the nuggets. Shake the pan to ensure they don't stick and cook, turning with tongs on and off, until evenly browned and cooked through (about 10 minutes). The mozzarella will melt and keep them nice and moist. Serve with dipping sauces.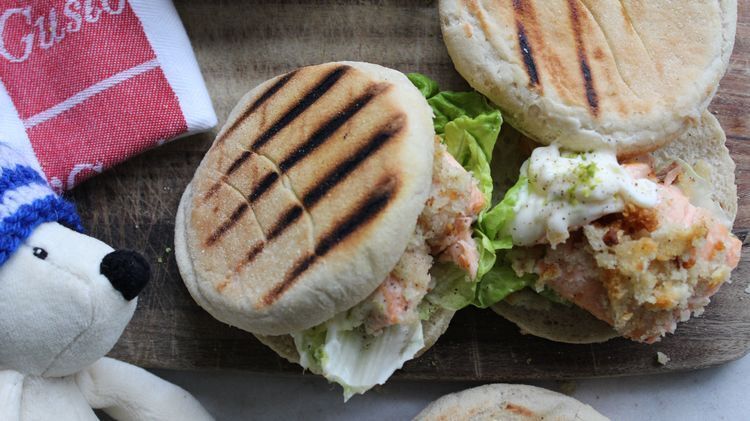 Photo © Emily Kerrigan/Modern Family Food
Fishfinger sandwiches
Makes 4 Takes 15 minutes
These quick breaded fishfinger sarnies hit the spot when you all come home hungry and you need food on the table fast. Easily scaled up to feed more people, they're a cinch to make and ready in 15 minutes max.
2 salmon fillets
2 handfuls of breadcrumbs
1 tbsp olive oil
salt and pepper
4 muffins
little lettuce leaves
3 tbsp mayonnaise
1 lime
1. Preheat the oven to 200°C/400°F/Gas mark 6. Line a baking tray with foil and put the salmon pieces on top.
2. Get the kids to mix the breadcrumbs in a bowl with the olive oil and a grinding of salt and pepper.
3. Spoon the crumbs onto each piece of fish, pressing down with the back of a spoon. Pop on the top shelf of the oven for 10 minutes or until cooked through and crunchy on the top.
4. While they're cooking, get the kids to zest the lime then mix it into the mayonnaise with a little salt and pepper.
5. Pop the muffins under a hot grill or on a griddle pan and char/toast on both sides.
6. Check that the salmon is cooked through (fatter fillets may need a few minutes more) then cut in half or slice into fishfingers lengthways. Sandwich into toasted muffins with lettuce and lime mayo.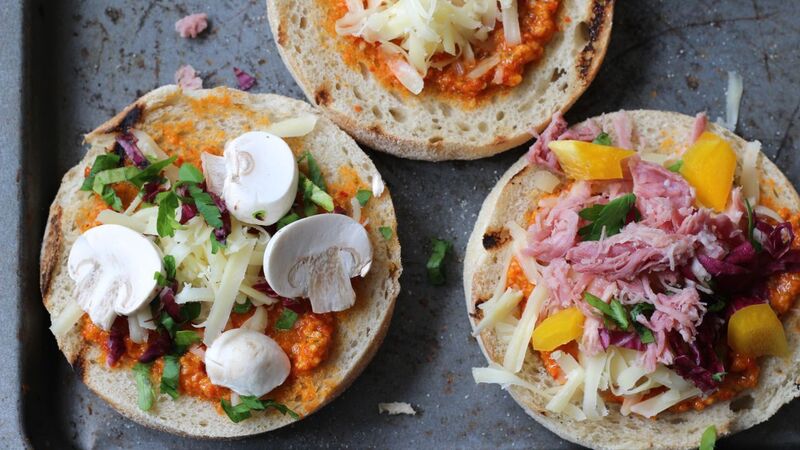 Photo © Emily Kerrigan/Modern Family Food
Muffin pizzas
Serves 4 Takes 10 minutes
Keep a pack of muffins in your freezer alongside portions of red pepper pesto or tomato passata and you'll always have a get-out-of-jail card for when you need something on the table fast. These muffins also use up whatever you've got in the fridge - a knob of cheese, leftover ham, half a green pepper, a couple of rogue spring onions. If you're using frozen muffins, whack them in the oven for a few moments; frozen cubes of pesto can be reheated quickly on the hob.
4 muffins
150ml passata or a few cubes of frozen red pepper pesto if you have it
50g cheddar or mozzarella
toppings: diced ham, chopped herbs, flaked tuna, leftover chicken, chopped mushrooms, diced peppers, sweetcorn
1. Preheat the oven to 200°C/400°F/Gas mark 6. Split the muffins with a bread knife and pop in your toaster or on a hot griddle for a moment or two.
2. Get the kids to grate the cheddar in a box grater (or rip up the mozzarella) and chop any herbs with herb scissors.
3. Arrange all the ingredients on a chopping board or tray and let the kids make their own pizzas by layering red pepper pesto/passata, followed by whatever ingredients they fancy, topped with cheese. We used mixed peppers, radicchio, spring onions, herbs and mushrooms. Pop on a baking sheet in the oven and cook until the cheese is bubbling and golden.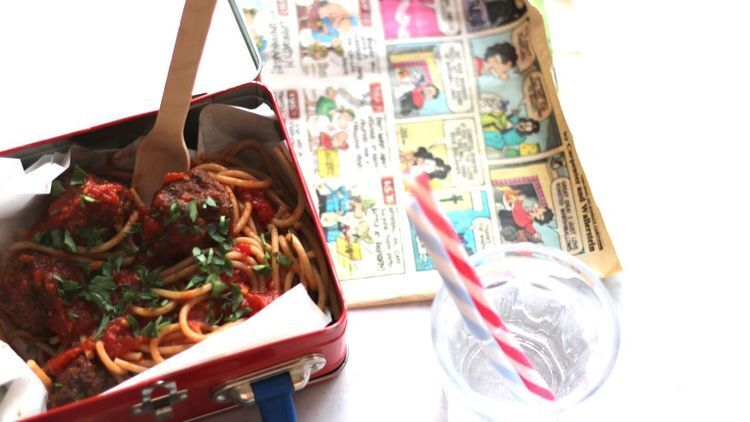 Photo © Emily Kerrigan/Modern Family Food
Simple freezable meatballs in tomato sauce
Serves 4 Takes 45 minutes
Meatballs are versatile, freezable and fun for kids to make. Don't get squeamish about them touching raw meat - just ensure they wash their hands afterwards and that really small kids, who have a habit of putting fingers in their mouths, know not to do this while touching uncooked meat. Most kids actually really like scrunching and squelching meat like it's playdough and the more these meatballs are scrunched, the more tender they'll be once cooked. If you want to stockpile some in the freezer, double the quantities and follow the instructions below.
1 clove garlic
rapeseed or olive oil
1 tin chopped tomatoes
1 tsp sugar
500g lean beef mince
good handful of flat-leaf parsley, plus a little extra to serve
65g white breadcrumbs
1 egg
salt & pepper
1. Get a pan on a medium heat. Thinly slice the garlic and soften in a pan in a little oil. Add the chopped tomatoes and sugar and leave to simmer while you make the meatballs.
2. Get a large mixing bowl and place a folded tea towel under it to stop it spinning as the children mix. Put the mince in the bowl and snip in the flat-leaf parsley (kids find this easiest with multi-blade herb scissors like these although watch their fingers. Add the breadcrumbs, help them to crack in the egg and season generously with salt and pepper.
3. Now get the kids to mix it all up with their hands (see intro). Give it a good minute or two of scrunching. You might want to start them off to give it the initial first mix. Next wet everyone's hands under the tap then roll the meat into little balls about the size of a golf ball. Hold back any meatballs that you want to freeze.
4. Get a wide saucepan with a lid over a medium heat, drizzle in a little more oil, then brown the meatballs, turning with tongs, until brown all over (a few minutes). Pour in the tomato sauce, pop on a lid and cook gently for 30 minutes.
5. You can serve them as they are or with spaghetti. Scatter over the remaining parsley before serving.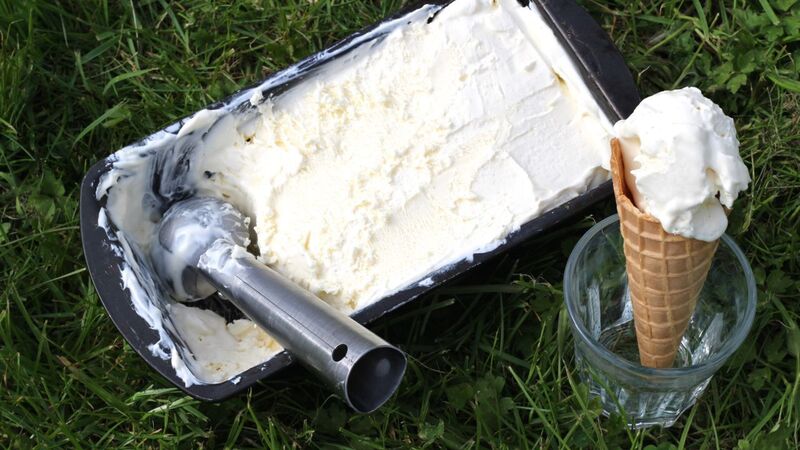 Photo © Emily Kerrigan/Modern Family Food
Minute-make milk can ice cream
Makes 1 tub Takes 5 minutes plus freezing
If you don't have an ice-cream maker, nor the time to make your own from-scratch custard base, then this condensed milk ice cream is for you. You *will* need an electric whisk if you want to prepare it quickly and you do also need to allow at least 4 hours for it to freeze - but the actual prep time itself is literally moments. All you need do is whip the condensed milk with vanilla essence and double cream. We like to make one base batch of vanilla then decant into little dishes or tubs and add different flavourings to portions. That way, your house resembles a cool Willy Wonka ice-cream factory and everyone in the family gets their favourite scoop.
400g can light condensed milk
300ml double cream
2 tsp vanilla bean paste or vanilla essence
1. Show the kids how to open the can of condensed milk and pop it in a bowl with the cream and vanilla then whisk for 3 minutes until forming stiff peaks.
2. Decant into a freezable plastic container, or a loaf tin, and freeze for at least 4 hours, or overnight.
3. If you want, you can divide it up and save some as vanilla then flavour portions of it with any of the below add-ins (or flavour one whole batch).
Willy Wonka add-in flavours
Strawberry: crush a few strawberries with a fork (it's nice to leave some chunky) and fold through your base.
Chocolate: melt a handful of chocolate drops in a bowl over boiling water then fold through your base.
Coffee: add a shot of espresso.
Mint choc chip: drip in a little peppermint essence and fold through dark chocolate chips (if the kids want it green, add a few drops of green food colouring).
Raspberry ripple: pound a handful of raspberries to a pulp with a pestle and mortar then ripple through the vanilla base with a fork.
Fancy trying any of these recipes? We'd love to get your feedback or see your photos! Post them to our Twitter or Facebook pages.
Find more of Emily's quick, easy recipes at Modern Family Food and follow her on Twitter, Facebook and Instagram. All recipes and photos © Emily Kerrigan/Modern Family Food